To be honest, when I hear the name Ginger, I think of the movie star on the TV series Gilligan's Island. But Ginger is also the name of a record-setting tropical cyclone in the Atlantic Basin from 50 years ago.
It has been 50 years since Ginger roamed around the Atlantic Basin for almost a month, and it is the first tropical cyclone this meteorologist ever got to see first hand.
The system developed from and area of low pressure in the western Atlantic. It was classified a tropical depression on September 6, 1971. The depression was named Ginger 4 days later on September 10 when it became a tropical storm.
By the following day, the storm intensified into a hurricane. On September 14, it became a strong Category 2 hurricane with 110 mph winds. This is as strong as the storm would get in its lifespan.
The storm actually danced around in the Atlantic southeast of Bermuda before turning back toward the United States. By then, the storm had lost some intensity.
It did regain some strength as it moved northwest toward the North Carolina coast but then weakened back to a Category 1 hurricane before making landfall near Emerald Isle on September 30.
Wind gusts over 90 mph were reported at Emerald Isle with gusts to 72 mph at Cape Hatteras and gusts to 58 mph at Topsail Beach.
Farther to the west, in my hometown of Dunn, North Carolina, I can remember watching the rain and wind from Ginger out of our living room window.
The storm had weakened to a tropical depression just to the east of Dunn and worked its way northward near I-95, moving up into Virginia before turning back east and heading off the coast near Norfolk.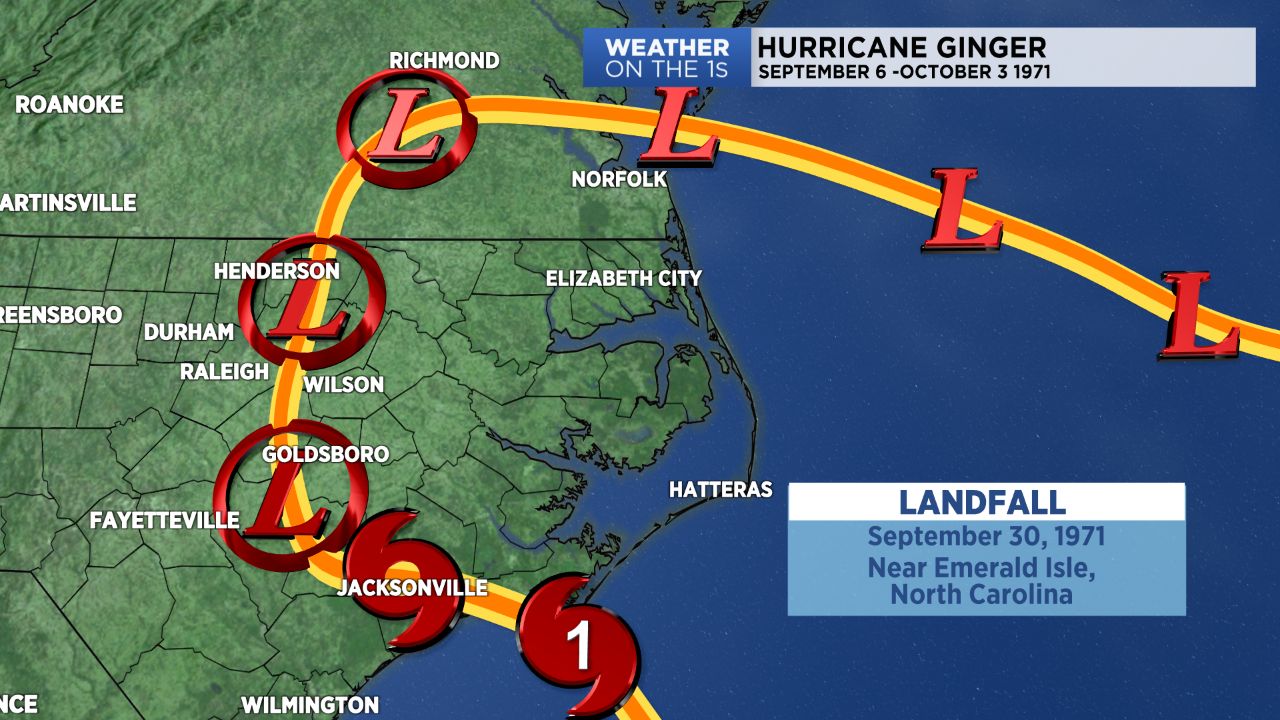 On October, Ginger was reclassified as an extra-tropical low and its 27 day journey as a tropical cyclone came to an end.
It should be noted that Ginger spent 20 days classified as a hurricane. Ginger lasted 27.25 days.
The only storm to exceed Ginger's longevity, was the 1899 San Ciriaco Hurricane. The San Ciriaco storm lasted a half day longer at 27.75 days.
The San Ciriaco storm was not classified as a tropical cyclone during that entire span of time, becoming extra-tropical for a time in the North Atlantic before regaining tropical characteristics before it weakened as it moved into the eastern Atlantic.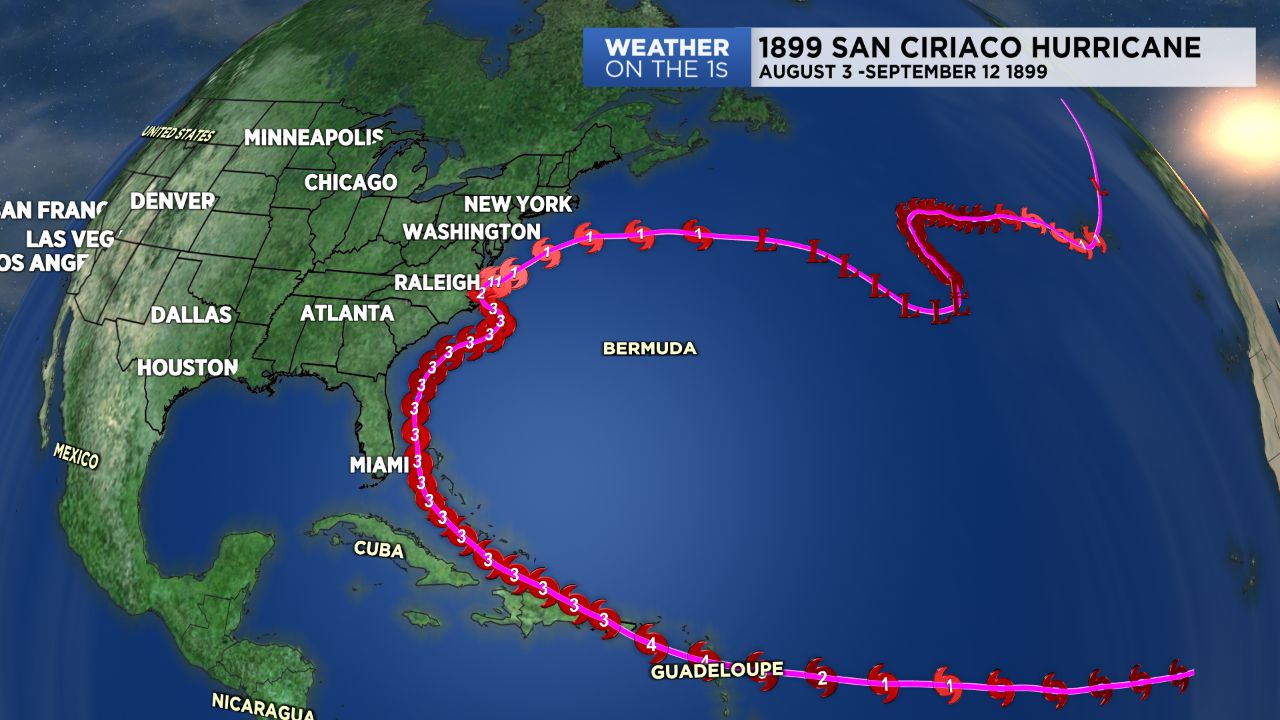 In an ironic twist, this storm also impacted North Carolina, making landfall near Cape Hatteras on August 18, 1899 as a major hurricane with winds of 120 mph.
As for the 8 year old kid in Dunn, watching the rain and wind from the window, he went out and walked around the neighborhood to find and inspect any damage from the storm after the rain and wind had died down. I did find some downed tree limbs but even that minor damage made an impression, and it may have help spark my interest in meteorology.
And on a personal note, its kind of cool to know that the first tropical cyclone I ever experienced, was a record setting storm. But a record in a good way. Not from death and destruction, but just because it stuck around for so long.