[ad_1]

Photos courtesy of Visit NC
For many Raleigh residents, summer just wouldn't be summer without a vacation at the coast. Lucky for us, the state has beaches in spades. North Carolina's 322 miles of shoreline consist of more than 25 distinct beaches, each offering a unique experience, from the lively boardwalk at Carolina Beach to the secluded vacation homes of Bald Head Island. Get to know the coastal towns we're fortunate to have close by this summer. We explore 17 of our favorite North Carolina beach towns and what each has to offer; we know one of them will have everything you want for the coastal getaway of your dreams.
Outer Banks
Kitty Hawk
Kitty Hawk's rustic vibe, combining water activities and a marine forest reserve for kayaking and hiking, is perfect for those looking to spend the summer outdoors. The charming town boasts a friendly beach community of residents and returning vacationers who welcome first-time tourists with open arms. 
Where to eat: John's Drive In, Ocean Boulevard Bistro & Martini Bar, Art's Place, High Cotton Barbeque
Attractions: Kitty Hawk Woods Coastal Reserve, Kitty Hawk Pier, Sea Scape Golf Links, Dare County Arboretum
Accommodations: A variety of chain hotels, resorts, inns and vacation rentals are available.
Parking: There are free parking lots with bath houses at several of the public beach access points along Highway 12.
Duck
You can't make a trip to Duck without going to Duck Donuts! No matter how long the line may be, it's worth waiting at the original location of the now nationally famous doughnut shop. Although small, the upscale beach town attracts visitors each year with its seven miles of white sandy beaches, lush maritime forests and swamps and exceptional dining and shopping options along the popular boardwalk.
Where to eat: Duck Donuts, The Blue Point Restaurant, Aqua Restaurant, The Paper Canoe
Attractions: Duck Town Park, Duck Boardwalk
Accommodations: You'll find chain hotels in the surrounding towns, with mostly inns and vacation rentals concentrated in Duck itself, along with the excellent Sanderling Resort.
Parking: Parking near the boardwalk
Nags Head
One of the most popular beaches in the Outer Banks, Nags Head boasts endless opportunities for summer fun for the whole family. Try parasailing over the ocean or hang gliding across the dunes, play mini golf, cast a line from the shore or ride a horse in the sand.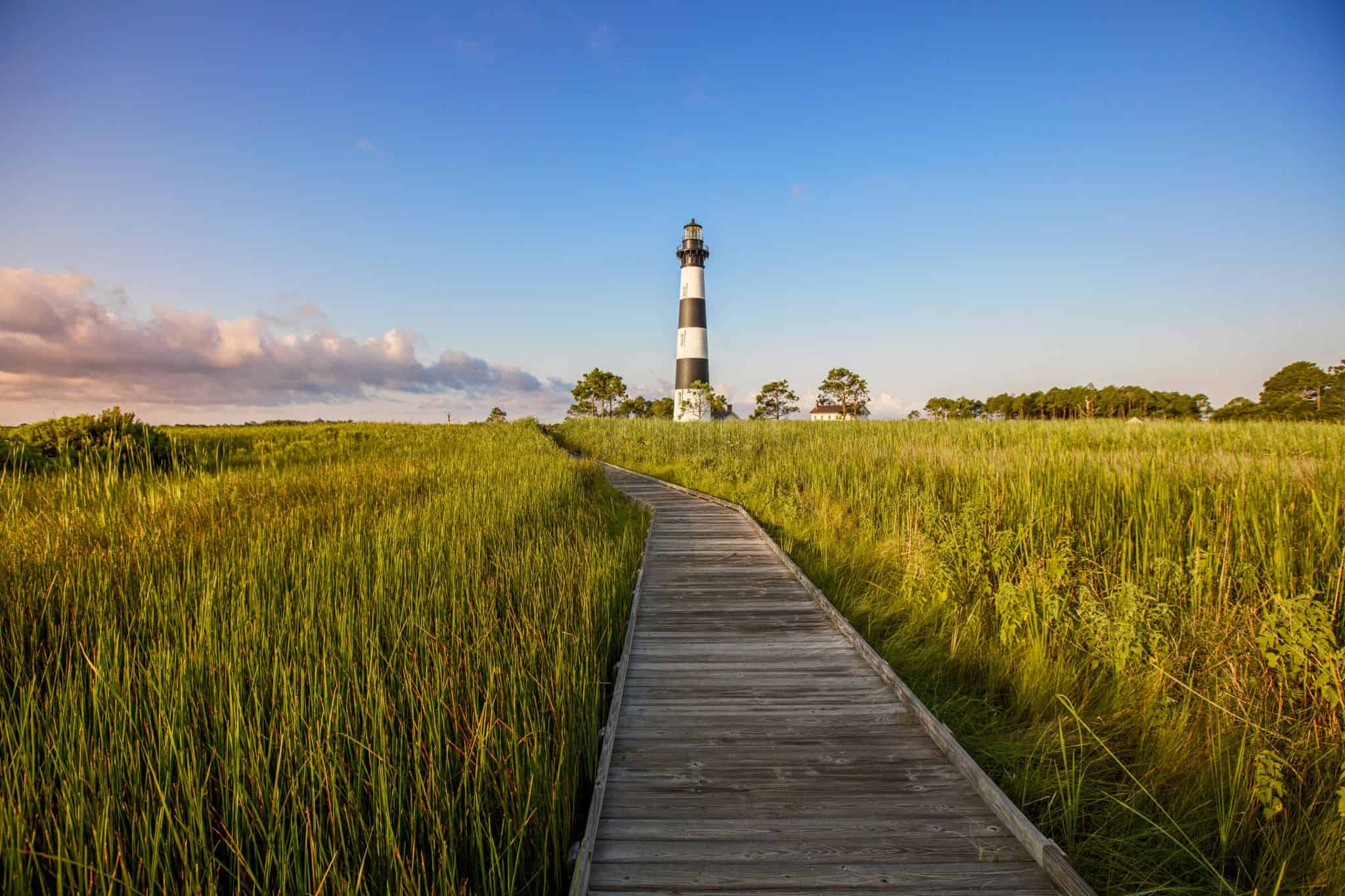 Where to eat: Blue Moon Beach Grill, Fish Heads Bar & Grill, Surfin' Spoon
Attractions: Jockey's Ridge State Park, Bodie Island Lighthouse, Jennette's Pier, Nags Head Woods Preserve
Accommodations: A variety of chain hotels, inns, beach cottages and other vacation rentals are available.
Parking: There are free parking lots with bath houses at several of the public beach access points along Highway 12.
Kill Devil Hills
Kill Devil Hills got its claim to fame after the Wright brothers successfully launched the world's first motor-operated airplane there in 1903. The memorial commemorating the event is a short bike ride from the delightful beach. Consider renting a bike to get around to the town's restaurants and shops during your stay.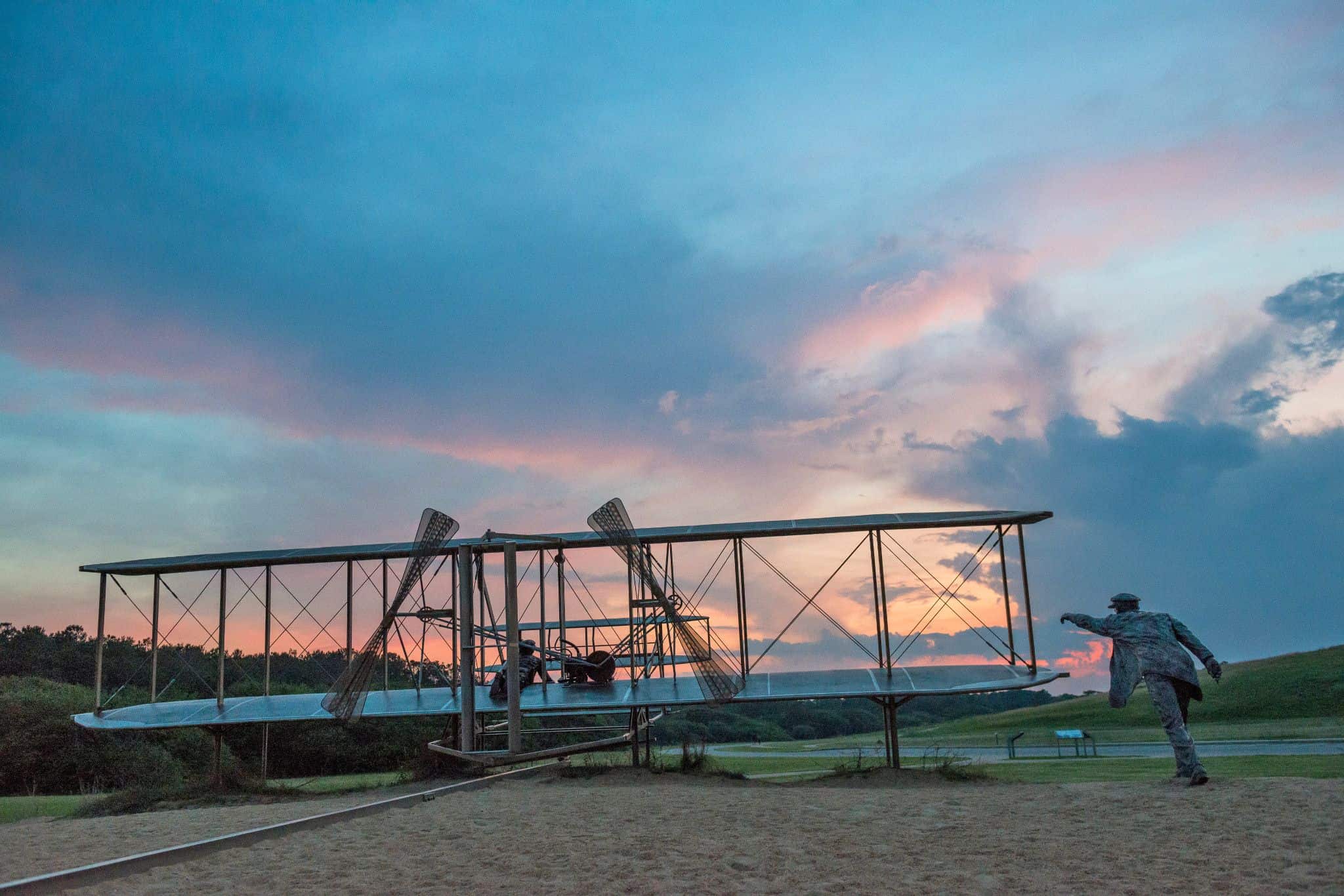 Where to eat: Jolly Roger, Stack'em High Pancakes & So Forth, Pigman's Bar-B-Que, The Kill Devil Grill, Food Dudes Kitchen
Attractions: Wright Brothers National Memorial, Run Hill State Natural Area, Avalon Pier
Accommodations: There are many chain hotels and large resorts to choose from on the oceanfront, along with vacation rentals.
Parking: There are free parking lots with bath houses at several of the public beach access points along Highway 12.
Crystal Coast
Indian Beach
In between Atlantic Beach and Emerald Isle lies Indian Beach—known as one of North Carolina's coastal hidden gems, an upscale beach town home to lush maritime forests, luxurious oceanfront homes, soft, white dunes and captivating emerald-hued waters. Its name comes from the discovery of Indian burial mounds before the town was incorporated in 1973.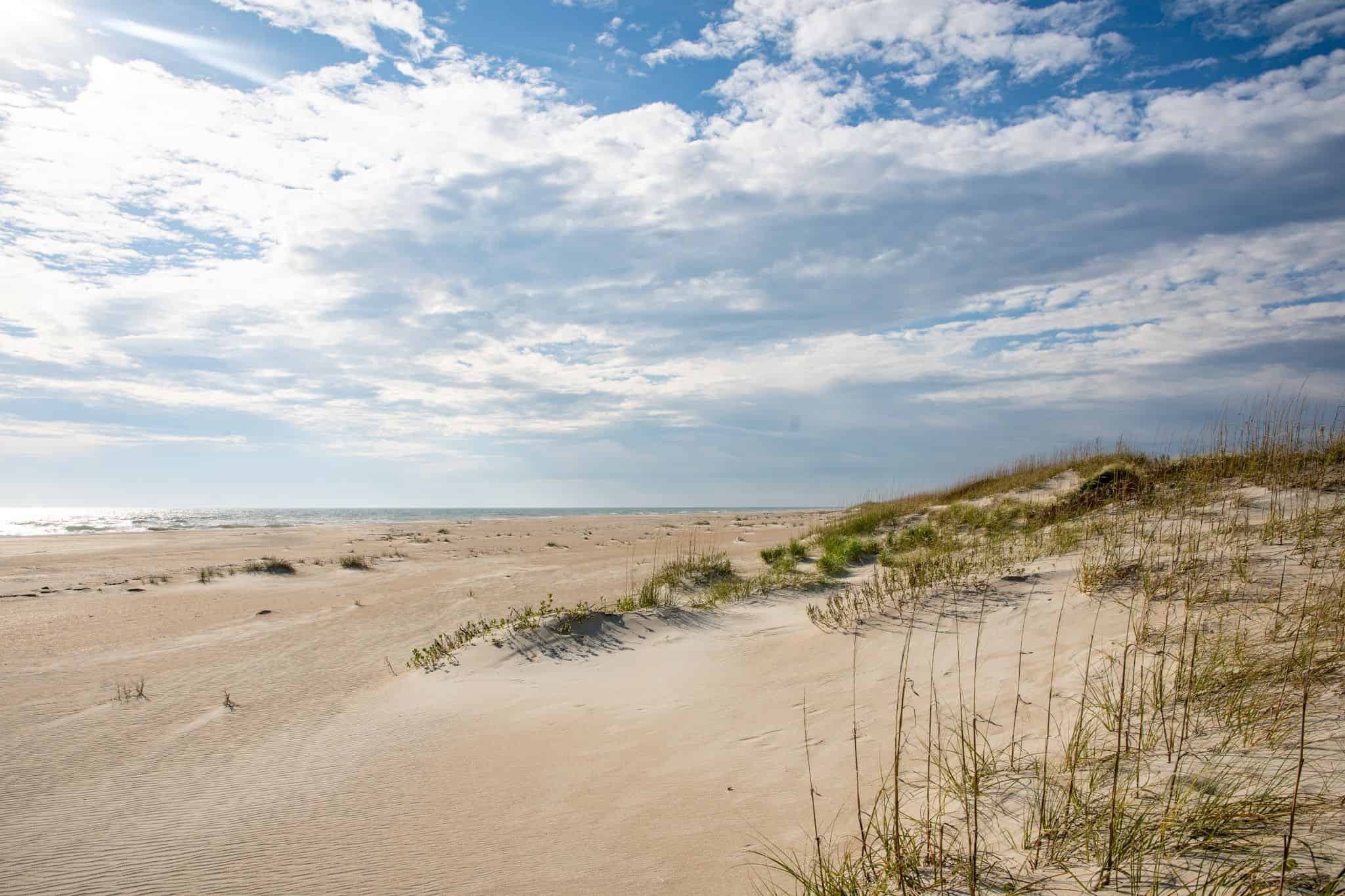 Where to eat: Big Oak Drive-In & Bar-B-Q, The Crab Shack Restaurant, Anchor Drafthouse & Pizzeria
Attractions: North Carolina Aquarium at Pine Knoll Shores, Bogue Banks, Island Water Sports Rentals
Accommodations: Lavish resort condominiums, motels and inns, mobile homes, vacation rentals and campgrounds on the ocean are all available. 
Parking: Free public parking lots are offered at most beach access points.
Emerald Isle
Voted North Carolina's best beach by U.S. News, Emerald Isle is a no-frills destination beloved for its 12 miles of family friendly beaches, popular fishing piers, oceanside amenities including grills, showers and picnic shelters, and delicious restaurants to fuel you before or after a long day on the water. Dolphin and wild horse sightings make a trip here all the more enticing.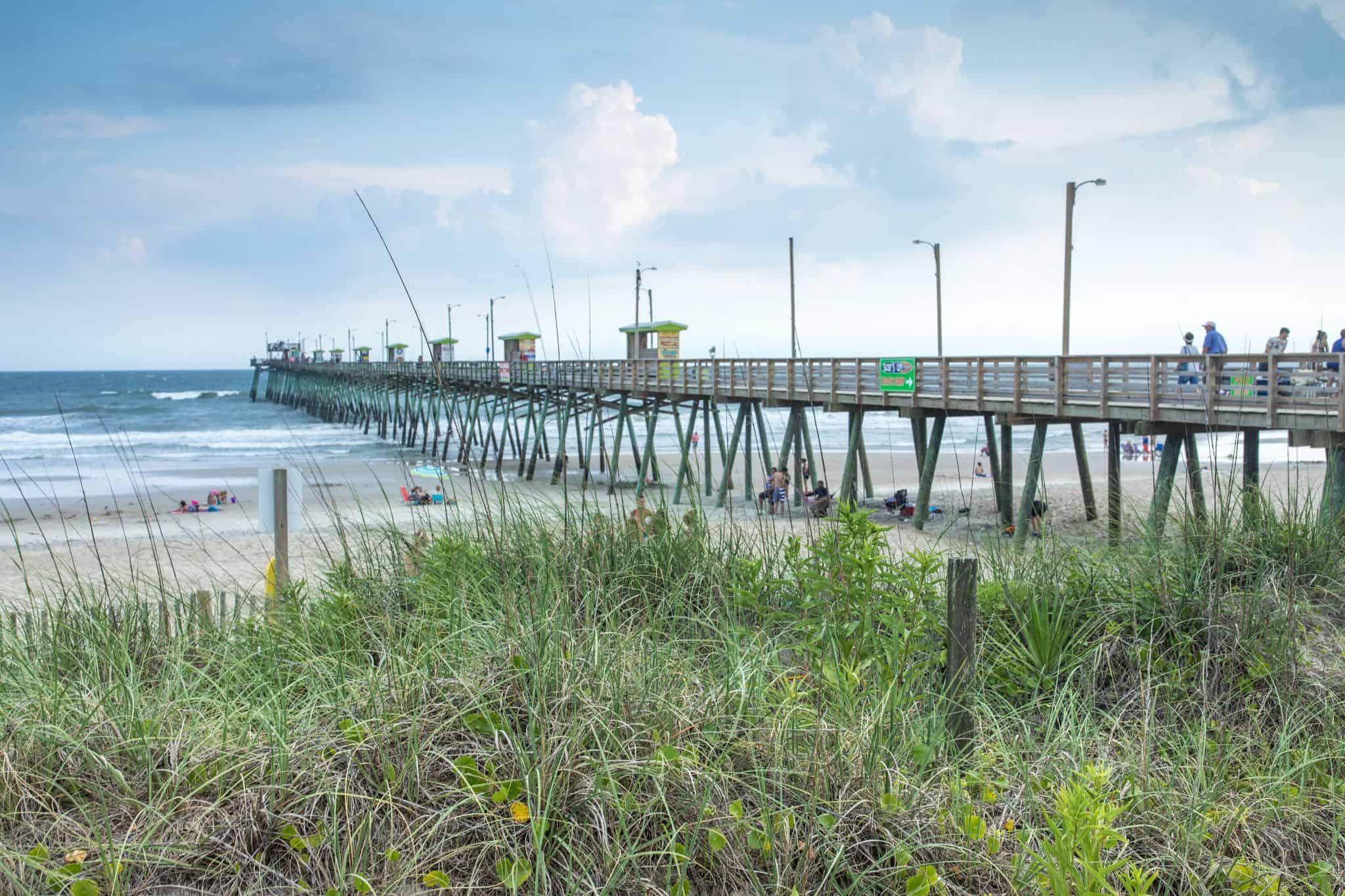 Where to eat: Caribsea, Kathryn's Bistro & Martini Bar, The Trading Post, Flipperz Family Bar & Grill
Attractions: Emerald Fest, Emerald Isle Woods Park, Bogue Inlet Fishing Pier
Accommodations: Emerald Isle offers only one oceanfront hotel—the Islander Hotel & Resort; primary lodging includes vacation rentals and a couple of small inns.
Parking: The Eastern Ocean Regional Access and Western Ocean Regional Access parking lots charge $10 per vehicle on the weekends; there is no parking fee on weekdays or at other beach access points.
Atlantic Beach
Atlantic Beach is a family favorite destination for its fun activities including swimming, fishing, biking, water sports rentals and other attractions. There's plenty to do, eat and drink in this lovely town, famous for its beautiful, translucent waters and easily accessible walking trails that help you explore everything the area has to offer.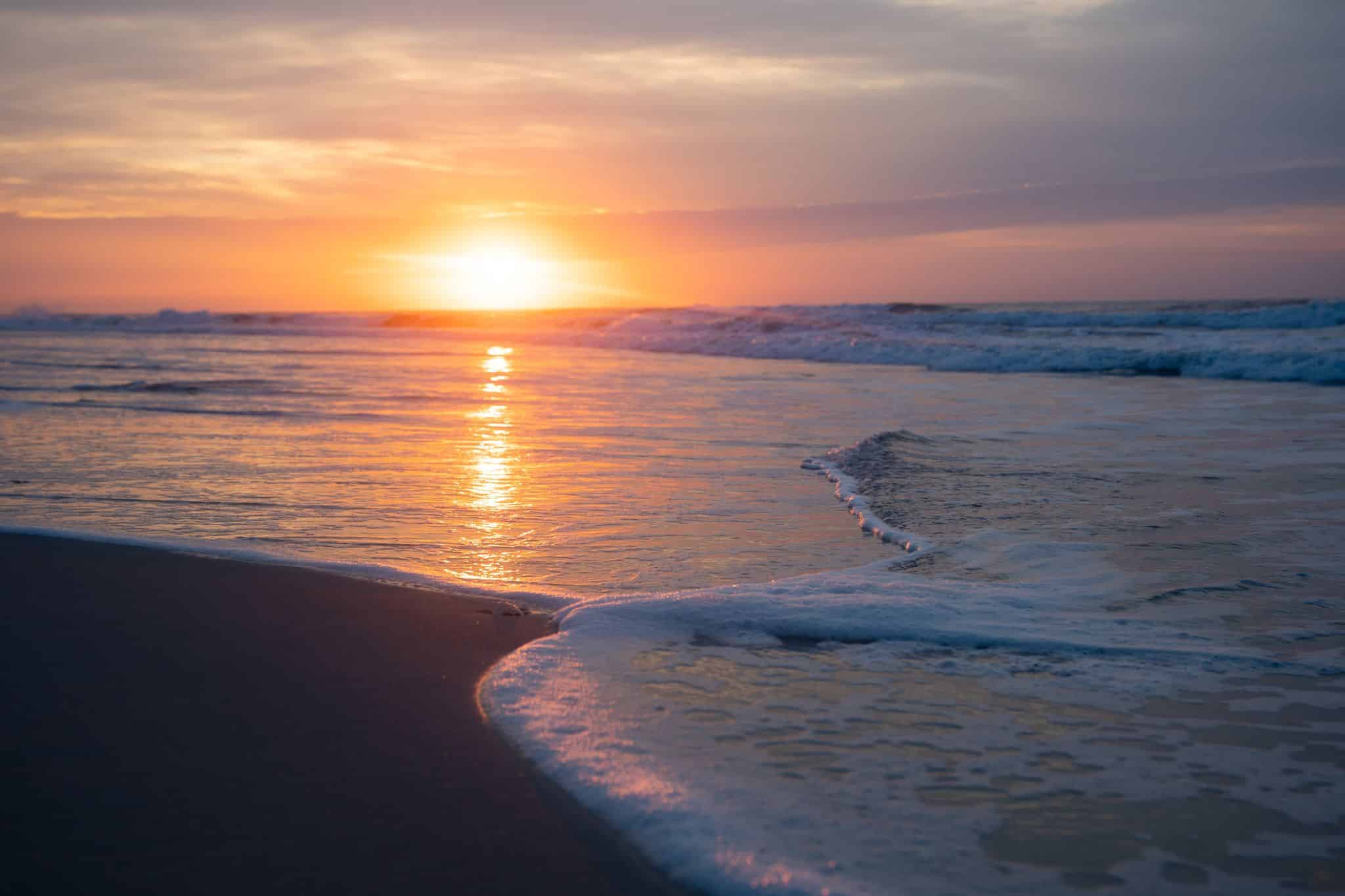 Where to eat: Shark Shack, Amos Mosquito's Restaurant & Bar, AB Ice Cream & Candy Shoppe, On The Rocks
Attractions: Fort Macon State Park, Hoop Pole Creek Nature Trail, Shackleford Banks
Accommodations: Choose from large chain hotels, cozy inns and homey vacation rentals.
Parking: Daily paid parking lots are dispersed along the beachfront. These are $2 per hour and only credit/debit cards are accepted (no cash).
Topsail Area
North Topsail Beach
Topsail Island's northernmost beach is a favorite for quiet family vacations. Boaters and anglers also flock to North Topsail for peaceful excursions. No high-rise hotels mean gorgeous ocean views no matter where you opt to stay or eat at one of the area's beloved oceanside restaurants. 
Where to eat: Splash By the Sea, Seaview Pier Restaurant, Ocean's Edge Restaurant
Attractions: Permuda Island Reserve
Accommodations: Small inns and motels are available, though most opt for a short-term vacation rental.
Parking: Public parking lots available at most beach access points.
Surf City
The main entertainment spot on Topsail Island, Surf City is where vacationers go to enjoy clean beaches, shopping and other activities by day, and socializing and dining at indoor and outdoor restaurants by night.
Where to eat: Shaka Taco, Sugar Island Bakery, SurfDog Bites & Brews, Surf City BBQ
Attractions: The Karen Beasley Sea Turtle Rescue and Rehabilitation Center, Soundside Park, Kenneth D. Batts Family Park
Accommodations: Small inns and motels are available, though most opt for a short-term vacation rental.
Parking: Public parking lots available at most beach access points.
Topsail Beach
A haven for tranquil beach getaways, Topsail Beach is beloved for its small, quiet beach community on the southernmost end of Topsail Island. The town is also known for its focus on the natural environment and conservation efforts. Seclude yourself in a vacation rental with only the ocean and a handful of neighborly restaurants to keep you entertained. 
Where to eat: Beach Shop & Grill, Cora's Isle-End Deli, Breezeway Restaurant
Attractions: Jolly Roger Pier, Missiles and More Museum, Topsail Beach Skating Rink
Accommodations: No high-rise condos are allowed on Topsail Beach; small motels and vacation rentals are the only options.
Parking: Public parking lots available at most beach access points.
Carolina Beach
A fun-filled vacation awaits at Carolina Beach. Enjoy summer concerts, amusement rides on the boardwalk, oceanfront dining and colorful tiki bars. Freeman Park, the northernmost region of Carolina Beach, is also one of the only beaches in North Carolina where driving onto the sand is allowed. Let the fun begin!
Where to eat: Britt's Donut Shop, Nauti Dog, Kate's Pancake House
Attractions: Carolina Beach Boardwalk, Carolina Beach State Park, Freeman Park, Riverfront Park Amphitheater
Accommodations: Hotels, motels and resorts of all sizes are available, along with vacation rentals. 
Parking: Download the Parkmobile app to pay for parking by phone in parking lots or opt for metered street parking spaces. Parking lots also have pay stations that accept cash.
Wrightsville Beach
Wrightsville Beach is a favorite among people of all ages. On any given weekend during the summertime, you'll find the beach filled with families on vacation, groups of friends on day trips and college students from the nearby University of North Carolina Wilmington. Commonly called the birthplace of surfing on the East Coast, Wrightsville Beach is also a popular spot to catch some waves. 
Where to eat: Tower 7, Oceanic, South Beach Grill, ARtisano Pizza and Gelato
Attractions: Johnnie Mercer's Pier, Wrightsville Beach Museum of History, Harbor Way Gardens
Accommodations: A mix of oceanfront hotels, resorts and short-term vacation rentals.
Parking: Wrightsville Beach offers metered street parking spaces and parking lots with pay stations. Pay-by-phone parking is also available. Rates are $5 per hour or $25 per day.
Kure Beach
Kure Beach's small-town vibe makes all who visit feel welcome. The beach is ideal for family vacations, as the whole gang can enjoy learning about North Carolina's ocean life at the aquarium, dining at family friendly restaurants, fishing on one of the oldest piers on the Atlantic Coast and enjoying water activities like swimming, kayaking and stand-up paddleboarding. 
Where to eat: Beach House Burgers, Jack Mackerel's Island Grill
Attractions: Kure Beach Fishing Pier, North Carolina Aquarium at Fort Fisher, Fort Fisher State Recreation Area
Accommodations: Mostly short-term vacation rentals, with a few small motels available.
Parking: Kure Beach is known for its free street parking—there are more than 300 free parking spaces in the area.
Brunswick Islands
Bald Head Island
Leave your car behind for a relaxing getaway to Bald Head Island; this beach is only accessible by ferry and a golf cart or bike is recommended for getting around once you're on the island. The pristine, 12,000-acre island is undeveloped aside from vacation rental properties and the exceptional Bald Head Island Club golf course, offering a serene feel for a handful of residents and vacationers. When you're really looking to get away from it all, Bald Head Island is where you'll want to be.
Where to eat: Jules' Salty Grub & Island Pub, Maritime Market Café
Attractions: Bald Head Island Golf Club, Old Baldy Lighthouse
Accommodations: Vacation rentals only—there are no hotels or motels on Bald Head Island.
Parking: Since no cars are allowed on the island, parking is never an issue! But you'll have to leave your car at the Deep Point ferry terminal; parking costs $11 a day from May through September. 
Ocean Isle
Across the Intracoastal Waterway you'll find Ocean Isle Beach, a time-honored summer vacation destination for many North Carolinians. Opt for a lazy getaway spent lounging on the beach and dining at some of the area's excellent restaurants, or spend your time swimming, boating and fishing. 
Where to eat: Causeway Gourmet, The Dawg House Grill Too, Ocean Isle Fish Company Restaurant, Drift Coffee and Kitchen, Jinks Creek Waterfront Grille
Attractions: Museum of Coastal Carolina, Ocean Isle Beach Fishing Pier, Ferry Landing Park, Ocean Isle Beach Free Summer Concert Series
Accommodations: Further inland, you'll find larger chain hotels, while small inns and vacation rentals line the oceanfront.
Parking: Free parking is available at almost all beach access points up and down the island.
Holden Beach
Folks come to Holden Beach as much for the ocean as for the fresh North Carolina-caught seafood. The area is home to several seafood restaurants that keep regulars coming back summer after summer for catch-of-the-day specials and timeless favorites. In between meals, vacationers pass the time on the delightful beach enjoying the sun, sand, water and each other's company.
Where to eat: Provision Company, Beaches N Cream, Dock House Seafood & More
Attractions: Holden Beach Watersports, Catch 22 Charters
Accommodations: A few quaint inns line the shore among many vacation rentals.
Parking: The largest public parking lot on the beach is under the bridge, where you'll also find public restrooms. There are parking lots at most beach access points as well.
Sunset Beach
It's said that life moves slower at Sunset Beach. The beach town's laid-back vibe is ideal for filling your days with suntanning in the sand, kayaking in the salt marshes, hitting golf balls on the green and enjoying seafood on an outdoor patio. Its name doesn't come from nothing—view both the sunrise and sunset over the water, a beautiful way to start and end each day.
Where to eat: House's Place at the Beach, La Cucina, Sarah's Kitchen, Crabby Oddwaters
Attractions: Ingram Planetarium, Silver Coast Winery, Bird Island Reserve, Oyster Bay Golf Links
Accommodations: Apart from the Sunset Inn bed and breakfast, Sunset Beach offers vacation rentals only.
Parking: Sunset Beach Pier offers the largest parking lot at a cost of $10 per day. Side street parking is limited.


[ad_2]

Source link