North Carolina Republicans are driving their message as they head into the homestretch of the 2022 midterm elections. At the party headquarters on Thursday, U.S. Sen. Marsha Blackburn, R-Tennessee, spoke to media and party faithful, urging them to keep the energy up and their focus on education and the impact of inflation.
"Inflation, inflation, inflation — that is issue one, two, and three," said Blackburn. "Imagine if you were to take $7,800, pretax, out of your family budget every year. What kind of difference would that make to you? Think about that impact. That is what is happening to North Carolina families."
In the NCGOP's Family First Forum, NCGOP Chairman Michael Whatley said that he believes voters are going to cast ballots based on "kitchen table" issues.
"If you go to the grocery store, you see it. If you go to the gas station, you see it. You feel this in your expenses in your household.," said Whatley. "People are going to vote on that because out of the five top issues in every poll, four of them are the economy, inflation, gas prices, and grocery prices."
Blackburn alluded to North Carolina's dramatic increase in school choice families since Gov. Roy Cooper's pandemic school closures and said that she and Capitol Hill Republican leadership are working on a federal Parent's Bill of Rights.
"We've got a lot of 'chief mamas in charge' here and across the country," said Blackburn. "When it comes to protecting their children, they're going to do it. When it comes to protecting their families, they are going to do it. I see this as a great opportunity for us as Republicans."
State Rep. Erin Pare and N.C. Senate candidate E.C. Sykes, both of Wake County, were on hand for the state-level take on Republicans' core message ahead of November. Pare recounted her experience in the state legislature and the fight to reopen schools.
"It was the Republicans at the General Assembly who were proposing safe reopening of schools, knowing that it was the right time to do it, but the Democrats would not allow that to happen," said Pare. "It was really frustrating to see the children suffer like they did, not just from an educational standpoint, but from a mental health standpoint. It was pretty shocking."
Sykes encouraged everyone to think back to the last decade of policy decisions and consider where the state can go from here if Republicans maintain control of the state legislature.
"The data now supports the strength of policies that Republicans put into place," said Sykes. "For us it's not an idea of what we think will work. We can look back and see how well they actually DID work. Republicans inherited billions of dollars in debt and high tax rates and now, as you play forward 10 years, we've had a chance to see how effective they've been. Not only have they paid the debt back, they've created a reserve and lowered the tax structure in addition."
The event comes as the Nov. 8 election closes in with early voting kicking off Oct. 20. What was originally expected to be a red wave for Republicans has tightened in recent months. A new poll of voters shows 46.6% support for a Republican generic ballot, compared to 44.5% for a Democrat generic ballot. The same poll showed that 53% of North Carolinians are finding food increasingly difficult to afford, with that number climbing to 61% in eastern North Carolina alone.  
Inflation in gas and other energy prices are driving up the price of goods and the base costs for local schools and governments. Gas is up 44% since January 2021. Blackburn laid the blame for that squarely at the feet of President Joe Biden.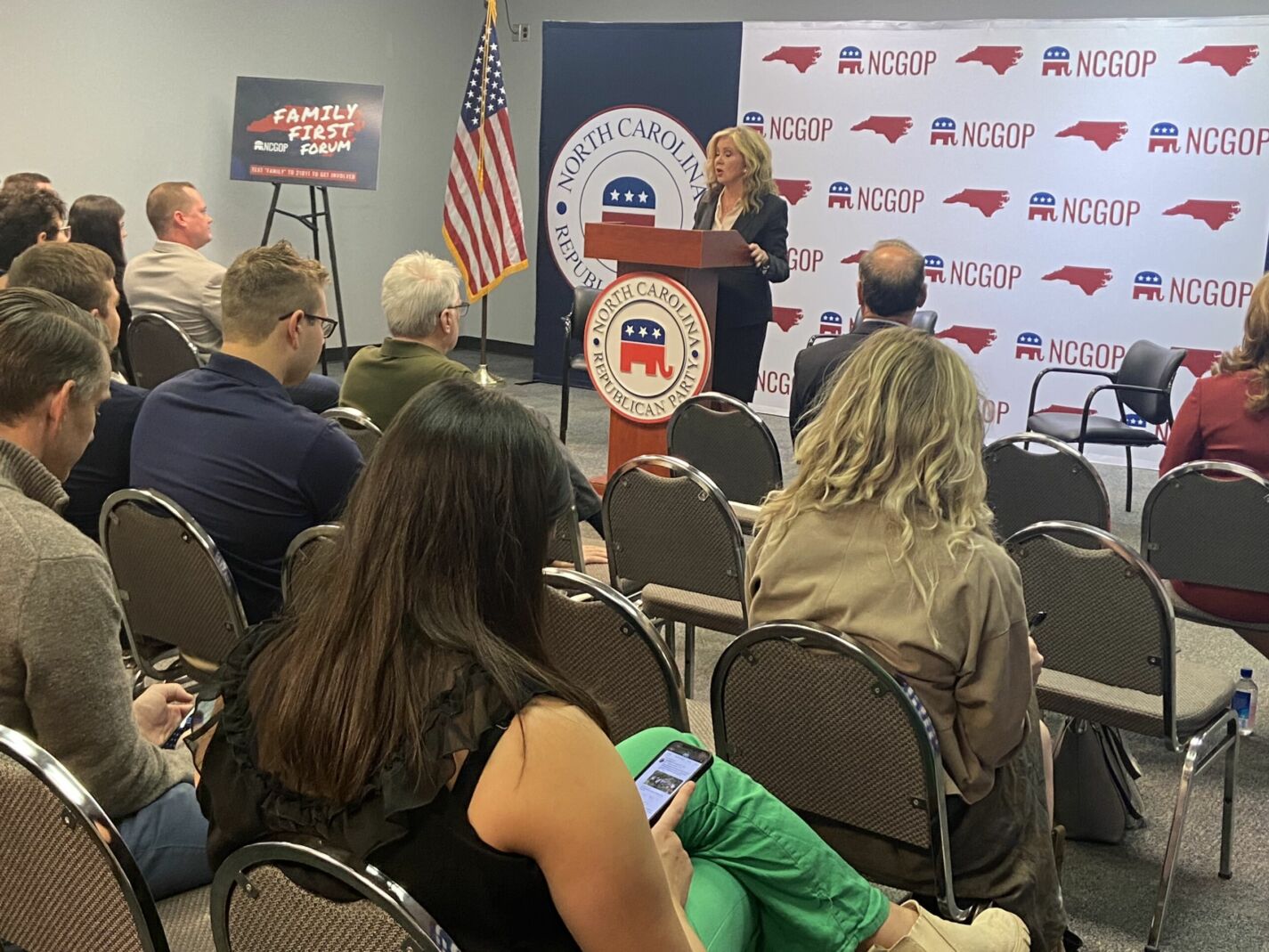 "On day one of the Biden administration, we saw him declare war on the oil and gas industry," she said. "Killing the Keystone pipeline, making a million acres off limits in Alaska. We can't go offshore, can't go on federal land, can't do any production there. You're going to end fracking. You don't want to export liquid natural gas. When Joe Biden took office, we were a net exporter of energy. Today, we are energy-dependent."
Going into November's election, North Carolina's electorate is 30% registered Republican, 34% registered Democrats, and 35% unaffiliated.
"We are always going to have very, very close races," said Whatley. "But the message is on the economy, on inflation, and on high gasoline and grocery prices."