CHARLOTTE, N.C. — Newly released 2020 U.S. Census data shows 874,653 people live in the city of Charlotte. Since the last census, just 10 years ago, the city grew by almost 140,000 people. For comparison, during that same time period, Raleigh grew by around 70,000 people, and Greensboro grew by more than 29,000 residents. 
What You Need to Know  
Due to population growth, officials say Census data shows Charlotte's districts are not balanced 
A redistricting committee has released three options for a new district map 
A new voting district map must be adopted by Nov. 17 
Growth, on any scale, has the potential of throwing off the balance of power delegated to public officials. That's why district lines bordering cities, towns and counties across the state will soon be re-drawn.
Earlier this summer, Charlotte Mayor Vi Lyles established a four-person redistricting committee made up of councilmembers Malcolm Graham, Ed Driggs, Dimple Ajmera and Greg Phipps. With Graham serving as committee chairman, the group was charged with re-drawing the city's seven voting districts so that they follow the "one person, one vote" principle. That principle says that voting districts at the local, state and national level must all have equal representation.
With Charlotte's population of 874,653 residents, each district in the city should have about 125,000 people. However, a majority of the districts are either well above or well below that equal size. That's why elected leaders say they must redraw them.
For Graham, who is now well into his second stint as a Charlotte city councilman, redistricting is a familiar topic. He was involved in the process the last time the city had to be redistricted back in 1999. But he also has weighed in at the state level. 
"I served as a member of the redistricting committee as a minority member in the North Carolina state Senate," Graham said.
He's now using that experience to chair the city council's redistricting committee which has a Nov. 17 deadline to adopt new district lines. That's one deadline in a tight schedule to hold city council primary elections in March of next year. Recently, with the consultation of a land geographical information systems consultant and a law firm, the committee released three options for a new district map.
Graham's dining room, which is more like a situation room, is where he can spread out huge posters, color coded by the Charlotte's seven districts.
"The maps that we're gonna produce for the public will also have the street names and landmarks, etcetera," Graham explained.
Using 2020 Census data, including race and which party Charlotte voters are registered under, the committee looked for ways to evenly distribute Charlotte's population among seven districts.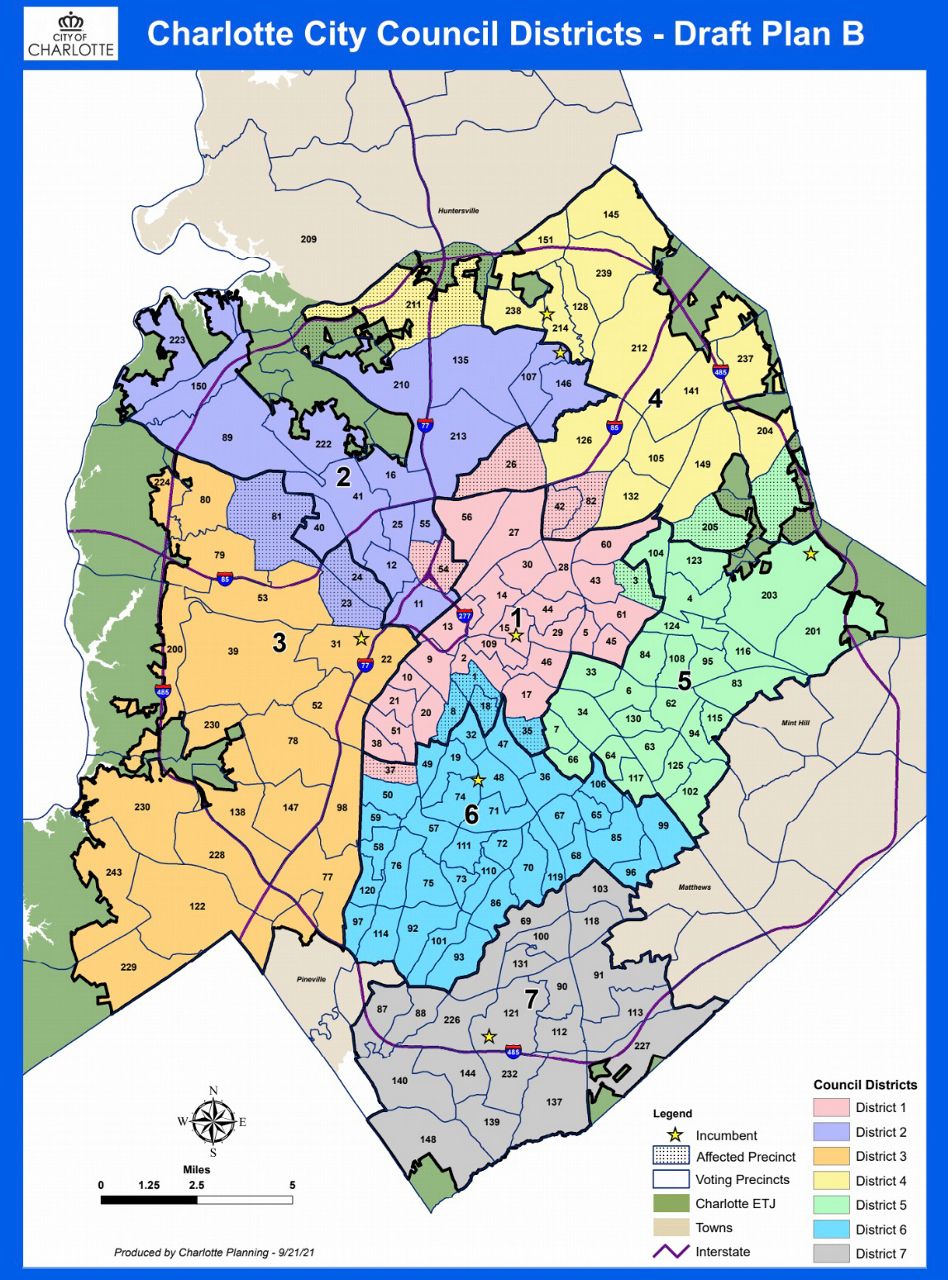 "District 3 having 141,000, so we needed to get that down to 125-plus or min," Graham said.
Graham says one of their guiding principles was to not break up what are called "communities of interest."
"In terms of not breaking up precincts, for example 42 and 82 are Hidden Valley," he said.
A community of interest, Graham explained, can also be precincts that have a large concentration of an immigrant community. Graham is confident the public will see the maps mirror the city's demographics and political balance.
"It also kind of maintains the status of five Democrats and two Republicans," he said.
But some on Charlotte City Council do not agree.
"Malcolm Graham says a lot of things that when you go one layer deep into them, you realize they make no sense at all," said Republican Councilman Tariq Bokhari.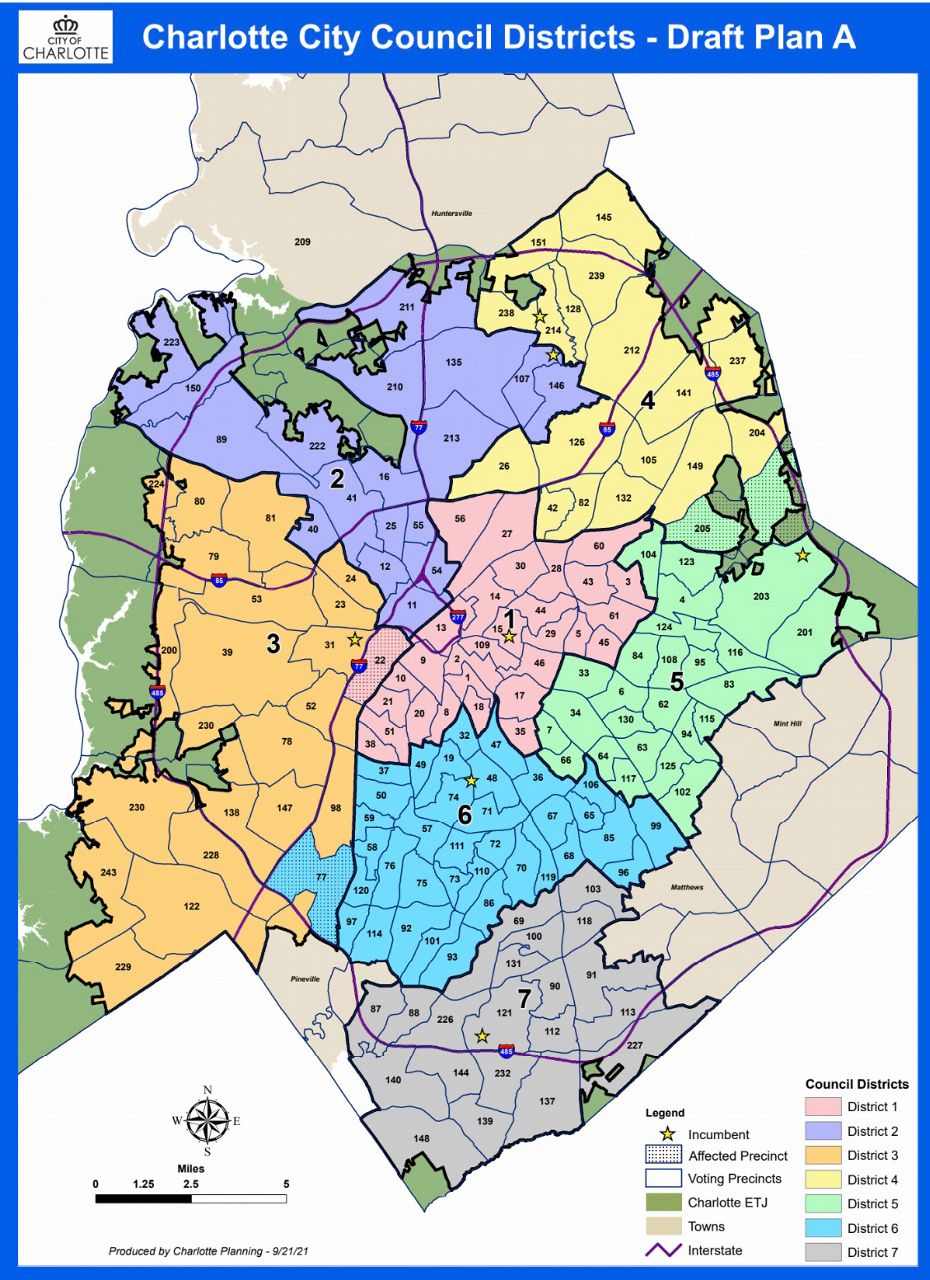 He characterized, at one point, some of Graham's work on the redistricting committee as "gerrymandering."
"Where it really just goes to degrade the number of Republicans inside District 6 and try to remove yet another republican seat," he said. 
"He's being very disingenuous with the truth," Graham responded. "The fact of the matter is we have been open, transparent honest."
There is a public engagement session for Charlotte's redistricting process on Oct. 5 at 6 p.m. Then, on Oct. 18, the redistricting committee is required to hold a public hearing. Members of the public wanting to participate in either must register here.
In addition to the City of Charlotte, voters should also be keeping an eye on redistricting across Mecklenburg County.
Commissioners will get their first look at three proposed options for re-drawing county district lines around some 195 precincts. Officials say one of those options includes at least 60 precinct changes. The county will hold a public hearing on those options Oct. 19. Commissioners also have a Nov. 17 deadline to adopt new maps.